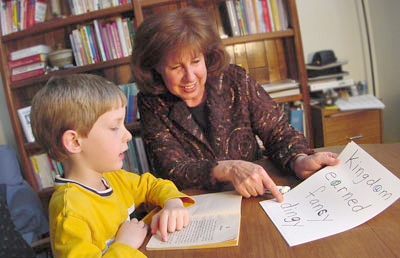 For the past 15 years I have held private consultations for families in my office in Denver using my unique Diagnostic Program. I have worked with over 3,000 families from across the country using this method.  However, due to the high demand for these private consultations (a 10 month waiting list), I have recently been offering Personal Internet Consultations for families.  This method has proven to be very successful. 
Have you been waiting for an appointment with Dianne for a private consultation for a long time?
Have you taken your child to other evaluators only to find that the therapy is so expensive?
Have you been interested in learning how to unblock your child's learning gates at home, but found it "too confusing" to know where to start?
Are you interested in receiving a "complete plan" for remediation of your child's processing or focusing issues? 
Is regular follow-up on your child's progress important to you?
Do you have a bright, hard working child or teen who has to work too hard to learn, but don't know what the problem is?  (is he just lazy, and unmotivated, or is something really going on?)
Does your child have focus and attention issues, but you don't want to use medication?
This may be an answer for you.
These Internet Consultations serve several purposes:
Families do not have to wait more than a few weeks for an evaluation and recommendations for their child or teen.
It saves families money for flights, hotels and meals.
The fee for this consultation is affordable for all.
Continued informal follow-up throughout a two year period for your child.
What is covered in this Consultation?
The Personal Internet Consultation focuses on locating your child or teen's learning blocks, and then showing the parent how to correct the processing glitches using specific Brain Integration exercises and Brain Trainings plus specific Right Brain Teaching Strategies to easily develop the child/teen's photographic memory for speedy learning in spelling, phonics, reading comprehension, math facts and processes, and memory skills.  In this consultation I also recommend specific, targeted nutritional supplements to help the child or teen remained focused on the task at hand.  Specific, targeted supplement therapy, along with the Brain Integration Therapy program and Right Brain Teaching Strategies have proven to be extremely helpful for the child or teen with Sensory Processing Problems, Anxiety, Dyslexia, Auditory Processing Problems, ADD, ADHD, Delayed Speech (very gratifying results here, too), Dyspraxia, Non-Verbal Disability, Cognitive Delays, Asperger's Syndrome and Autism.  We get wonderful results with these interventions.
The Process:
Parent fills out detailed Questionnaires about their child or teens learning issues and sends back to me. Any testing will be sent also.  I will go over all testing  with great detail.
I evaluate this information very carefully.  I will send clarifying email questions, if necessary.
I send parent a written Report and Recommendations for success (the most important part)
Detailed, illustrated information will be sent to parent so that each step of the interventions for success can be followed by the parent.
A file will be kept on your child/teen for 2 years.  Throughout that time, when a parent needs to email a question, we ask that you put "Personal Internet Consultation" in the subject line, so your email will be flagged as priority.
If you are interested having a Personal Internet Consultation, then just email me (craft@ecentral.com) and put "Personal Internet Consultation" in the Subject Line.  I will then send you the information on how to proceed.
Blessings.
Dianne Craft, MA, CNHP